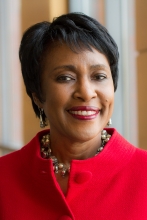 William T. Carter Professor of Child Development and Education
Dr. Gadsden began her career teaching developmental English, reading, and educational psychology at Oakland and Wayne State Universities in Michigan. From 1983 to 1985, she was a research analyst at Policy Studies Associates in Washington, D.C. In 1988, Dr. Gadsden joined Penn GSE's Literacy Research Center, where she became associate director in 1989. A former Spencer Foundation/National Academy of Education postdoctoral fellow, Dr. Gadsden served as associate director in the National Center on Adult Literacy for six years. In 1994, she became the director of the newly founded National Center on Fathers and Families, an interdisciplinary policy research center focused on child and family well-being. She also served as Education Graduate Group Chair from 1996 to 2004. In 2006, she was named the William T. Carter Professor in Child Development and Education.
 She is an active member of the American Educational Research Association, serving as vice president of Division G, Social Contexts of Education from 2003 to 2006; the Society for Research in Child Development, serving as co-executive officer of the Black Caucus and program co-chair for the 2009 biennial meeting; the National Reading Conference; and the International Reading Association. She serves on the advisory boards of the Philadelphia United Way School Readiness Initiative and the Goodling Center for Family Literacy and has served on congressionally mandated review and advisory panels, including those of the Reading Excellence Program, Comprehensive School Reform, and the National Academy of Sciences. She also serves or has served on editorial boards of the Journal of Reading, the Journal of Reading Behavior, Fathering, and the National Head Start Association's Dialog.
Executive Board Term End
S2021
field/interests
Economics, Work, and Family
Law, Politics, and Public Policy