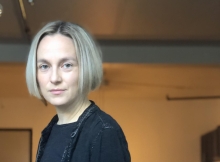 Assistant Professor
Email
S. Pearl Brilmyer's work lies at the intersection of the history of philosophy, science, and literature with a focus on the nineteenth-century English novel. Other areas of research include theories of will and drive in nineteenth-century German philosophy and science (Nietzsche, Schopenhauer, Freud, Reich), the history of sexuality, and materialisms old and new.
Prior to joining the faculty at Penn, Brilmyer was assistant professor at The University of Oregon and adjunct instructor at New York University, Pratt Institute, and the Brooklyn Institute for Social Research. She has held fellowships from the Alexander von Humboldt Foundation, the ICI Berlin Institute for Cultural Inquiry, the DAAD (German Exchange Service), the Max Planck Institute for the History of Science, the Wolf Humanities Center, and the Trustees' Council of Penn Women Faculty Research. 
Her book The Science of Character: Human Objecthood and the Ends of Victorian Realism (Chicago, 2022) develops a literary-theoretical approach to the history of science, advancing a theory of late Victorian realism as a "science of character" committed to understanding what brings characters—literary and natural historical, human and nonhuman—into existence. She has also recently co-edited two special issues, one with Filippo Trentin and Zairong Xiang in GLQ: A Journal of Gay and Lesbian Studies on "The Ontology of the Couple," and another with Filippo Trentin in the journal Psychoanalysis & History on Lou Andreas-Salomé's 1916 essay, "'Anal' and 'Sexual'" featuring the first English translation of that essay.
She is currently working on an experimental, annotated edition of Olive Schreiner's unfinished novel entitled The Prism I Hold in My Hand (under contract with Punctum Books) and a second book project, Queer Rigidity, on the tendency of desire to crystallize into patterns and follow well-worn paths. Her articles have been published in PMLA, Representations, Criticism, and Victorian Studies, among other venues.
Brilmyer is also a core faculty member in the the Program in Comparative Literature & Literary Theory
Executive Board Term End
2025
Area of Expertise
field/interests
Cultural Studies and Cultural History
Histories of Gender and Sexuality
LGBTQ Studies and Queer Theory