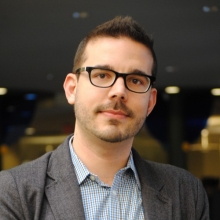 Penn Presidential Professor of Nursing
José A. Bauermeister, PhD, MPH is the Penn Presidential Professor of Nursing at the University of Pennsylvania School of Nursing, and Director of the Program on Sexuality, Technology, & Action Research (PSTAR). He founded and directed (2009-2016) the Center for Sexuality & Health Disparities at the University of Michigan prior to joining Penn Nursing in 2016. 
Dr. Bauermeister received his B.A. in Psychology from the University of Puerto Rico and his MPH (2004) and PhD (2007) degrees in health behavior and health education from the University of Michigan. He also completed a NIH-funded postdoctoral fellowship in Behavioral Sciences in HIV Prevention from the HIV Center for Clinical and Behavioral Studies at Columbia University.
Gay, bisexual and other men who have sex with men (GBMSM) and transgender populations account for most new HIV/STI infections in the United States. Dr. Bauermeister uses interdisciplinary strategies to develop behavioral and biomedical HIV prevention and care interventions for sexual and gender minorities.
Dr. Bauermeister has received more than $25 million as principal investigator in research grants, and served as co-investigator on another $115 million in federally-funded research. Dr. Bauermeister's work has been funded by the National Institutes of Health, the Centers for Disease Control and Prevention, as well as supported by the MAC AIDS Fund, the Ford Foundation, and the Herb Ritts Foundation.
Executive Board Term End
S2021
field/interests
Health and Science
LGBTQ Studies and Queer Theory