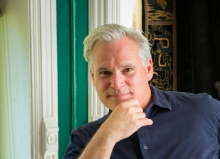 Associate Professor of Practice, History of Art
Email
Office Location
345 Fisher Bennett Hall
Suite 307
Jonathan D. Katz is perhaps the founding figure in queer art history, responsible for the very first queer scholarship on a number of artists beginning in the early 1990s. His scholarship spans a period from the late 19th-century to the present, with an emphasis on the US, but with serious attention to Europe, Latin America and Asia as well. He has written extensively about gender, sexuality and desire, producing some of the key theoretical work in queer studies in the visual arts.
Recent projects include a study of the international influence of Herbert Marcuse's writing on the visual arts from the 1950s to the 1970s, a new reading of the cultural wars in the era of AIDS and contemporary resonances of that conflict, a project envisioning supplanting the predominantly binary understanding of sexuality with a trans perspective, and new work on queer Latinx artists in periods of dictatorship. He curated the first major museum queer exhibition in the US, his 2010 Hide/Seek: Difference and Desire in American Portraiture at the Smithsonian National Portrait Gallery, which was attacked by the Republicans and resulted in an international censorship conflict over the removal of a film by David Wojnarowicz (while winning the 2011 award for best national museum exhibition by the international organization of art critics, its catalog awarded the best non-fiction queer text by the American Library Association). His recent Chicago About Face: Stonewall, Revolt and New Queer Art, at 500 works the largest queer exhibition yet mounted, was one of the rare art shows that featured a majority of artists who were neither male nor white, and was favorably reviewed on the front page art section of the New York Times. His Art, AIDS, America traveled to five museums across the country. Indeed, Katz has curated more queer art exhibitions than anyone else in the world--here and abroad--and written more about queer art. He has also been a central figure in the establishment of the field of queer studies in the US, as the chair of the first such department in the US at City College of San Francisco, the first tenured faculty in the field, the founder of the first such program in the Ivy League at Yale University, and the first doctoral program in queer Visual Studies at the University at Buffalo. He has also founded and chaired several major non-profit and queer activist organizations, and his work as a scholar and as an activist is itself the subject of scholarly inquiry.
For more information: Publications, Wikipedia, Hide/Seek Difference and Desire in American Portraiture, Art AIDS America Chicago, About Face: Stonewall, Revolt and New Queer Art May 22-Aug 10, 2019, University at Buffalo College of Arts and Sciences, Queer Cultural Center.
Executive Board Term End
2024
Area of Expertise
field/interests
Cultural Studies and Cultural History
LGBTQ Studies and Queer Theory