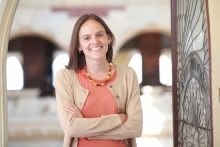 Assistant Professor of City and Regional Planning
Francesca Ammon is a cultural historian of urban planning and the built environment. Her teaching and research focus on the changing spaces of American cities, from World War II to the present. She grounds her interdisciplinary approach to this subject in the premise that the landscape materializes social relations, cultural values, and political and economic processes. Professor Ammon is particularly interested in the history of urban revitalization, with an emphasis on urban renewal; the dynamic relationship between cities and nature; public history as a tool for community-based research and engagement; and the ways that visual culture has shaped understanding of what cities are, have been, and should be. Her book, Bulldozer: Demolition and Clearance of the Postwar Landscape, won the 2017 Lewis Mumford Prize for the Best Book in Planning History. Her work has also appeared in the Journal of Planning Education and Research, Journal of Planning History, Journal of Urban History, Change over Time, Preservation Education and Research, and Technology and Culture.
At Penn, Professor Ammon is a member of the standing faculty of the City & Regional Planning Department and the Graduate Program in Historic Preservation. She is also an associated faculty member of the History Department and a member of the Gender Sexuality and Women's Studies (GSWS) Executive Board. She has been a colloquium member of the Penn/Mellon Foundation Humanities + Urbanism + Design Initiative, an Andrew W. Mellon DH Fellow at the Price Lab for Digital Humanities, and a Faculty Fellow of the Penn Institute for Urban Research.
Before joining the Weitzman School of Design faculty, Professor Ammon was a Visiting Scholar at the American Academy of Arts & Sciences. She has also received fellowships from the American Council of Learned Societies, Andrew W. Mellon Foundation, Society of Architectural Historians, Whiting Foundation, Ambrose Monell Foundation, and University Research Foundation at Penn.
https://www.design.upenn.edu/city-regional-planning/graduate/people/francesca-russello-ammon
Executive Board Term End
S2021
field/interests
Cultural Studies and Cultural History
Histories of Gender and Sexuality
Social Change and Social Justice