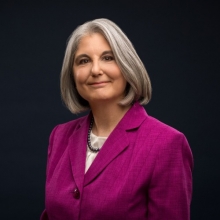 Associate Professor of Nursing
Anne M. Teitelman, PhD, FNP-BC, FAANP, FAAN, is an Assistant Professor of Nursing at the University of Pennsylvania, and holds the Patricia Bleznak Silverstein and Howard A. Silverstein Endowed Term Chair in Global Women's Health. She is also, a nurse practitioner at The Hospital of the University of Pennsylvania where she sees adolescents and adults for family planning. Dr. Teitelman is a board member of the International Council for Women Health Issues and a member of the editorial board for Health Care for Women International.
Dr. Teitelman conducts research on understanding the interplay of social and cognitive influences on sexual health for adolescent girls. Through a series of mixed-method studies funded by NIMH, she identified specific mechanisms linking partner abuse and sexual risk and used these findings to develop a theory-based contextually-tailored 10-hour intervention for urban adolescent girls to reduce the risk of HIV and partner abuse; she has just completed a randomized controlled trial to evaluate this intervention. More recently, Dr. Teitelman has begun to explore intrinsic vulnerabilities in decision-making that affect sexual risk taking situations for adolescent females. She seeks to understand how brain vulnerabilities, assessed though behavioral tasks performed on a computer while undergoing fMRI, may interfere with optimal safer sex decision-making and hopes to use this information to create novel bio-behavioral interventions.
Also interested in health promotion interventions to reduce health disparities, Dr. Teitelman has studied why the human papilloma virus (HPV) vaccine has had poor uptake among the most at-risk vaccine eligible females. She also explores the social context of violence for youth living in low-income urban communities as a member of the Philadelphia Collaborative Violence Prevention Center.
Dr. Teitelman had been a consultant to the Pennsylvania Department of Health on teen dating violence. Her international work includes consultations regarding advancing women and girls health with the Department of Nursing, University of Pretoria, South Africa; the University of Botswana and to Rubia, a non-profit NGO in Afghanistan.
Executive Board Term End
S2021
field/interests
Economics, Work, and Family
Health and Science
Social Change and Social Justice
Transnational Feminisms
Women of Color Feminisms