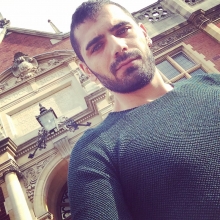 Assistant Professor
Office Location
Abdulhamit Arvas is Assistant Professor of English at the University of Pennsylvania. He received his PhD in English, with additional specialization in Women's and Gender Studies, from Michigan State University. Prior to joining Penn English, Dr. Arvas was Assistant Professor of Theater at the University of California, Santa Barbara and Andrew W. Mellon Postdoctoral Fellow at Vassar College. His research and teaching focus on early modern literature and culture, comparative histories of sexuality and race, queer theory, cross-cultural encounters, and Islam in the Renaissance.
Dr. Arvas is currently working on a book project, tentatively titled Beautiful Boys of the Global Renaissance: Travelling Sexualities in Anglo-Ottoman Encounters, which concerns early modern sexuality and race in a global context. Specifically, reading English and Ottoman literatures together, his project explores the abduction and circulation of male adolescents in the transnational Mediterranean space during the sixteenth and early seventeenth centuries. 
His publications have appeared or are forthcoming in journals including English Literary Renaissance, Journal of Early Modern Cultural Studies, Shakespeare Survey, postmedieval, GLQ: A Journal of Lesbian and Gay Studies, and in edited collections such as The Postcolonial World, The Cambridge History of Gay and Lesbian Literature, England's Asian Renaissance, Trans Historical: Gender Plurality Before the Modern, and A Companion to Global Shakespeares. Most recently, with Afrodesia McCannon and Kris Trujillo, Dr. Arvas co-edited the tenth anniversary issue of postmedieval: a journal of medieval cultural studies, titled Critical Confessions Now. 
In addition to the Mellon fellowship, Dr. Arvas was awarded fellowships and grants from Fulbright, the University of California Humanities Research Institute, the SSHRC Early Modern Conversions at the University of Cambridge, and The Folger Shakespeare Library. 
Dr. Arvas is affiliated faculty in Gender, Sexuality and Women's Studies, and the Middle East Center. 
Executive Board Term End
2024