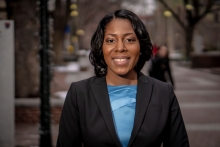 Director, Penn Women's Center
Email
Born and raised in Philadelphia, Sherisse Laud-Hammond originally came to Penn as a Master of Social Work student at the School of Social Policy & Practice. As the Director of the Penn Women's Center (PWC), Sherisse currently supports students, staff, faculty, and all Penn community members through counseling and innovative programming related to women's support and advocacy, gender equity, and interpersonal violence. 
Prior to becoming the Director of the Penn Women's Center, Sherisse worked as the Director of MSW Advising and Professional Development at Temple University School of Social Work, where she conducted individual and group advising sessions, connected students to campus resources, and facilitated professional development workshops and events. In addition to these responsibilities, Sherissealso taught courses in Social Work theory and practice.
She also formerly held the position of Associate Director of Admissions and Recruitment at Penn School of Social Policy & Practice. In this role, she developed and implemented strategies for recruitment and retention of students for master's and doctoral programs. Sherisse has been an effective collaborator at Penn, spearheading a Hurricane Katrina Relief Initiative, participating on the search committee for Open Mind for Africa, and advising students in multiple dual degree programs.
Prior to working in higher education, she spent time in private and non-profit social service organizations.  For many years, Sherisse worked in executive recruitment for Diversified Search, the largest woman owned retained executive recruitment firm in the United States, which blossomed out of the Women's Rights movement of the 1970's.
Her experience also includes work as an educator, therapist, and parenting education facilitator. A social worker by training, she has extensive experience in individual and group counseling. Sherisse worked as a school social worker where she developed a girl's rites of passage program for adolescent youth. She has been a parenting education group facilitator in Philadelphia for almost two decades, working with women in shelter systems, housing developments, schools and community centers.
Sherisse is a Board Member of Inspiring Minds Philadelphia, a nonprofit whose mission is to engage, inspire, and empower youth to reach their full potential through education. She is also a long time member of Delta Sigma Theta Sorority Inc., a public service organization focused on educational and economic development, physical and mental health, and educational and political awareness and involvement.
Sherisse earned her B.A. in Sociology from The Pennsylvania State University, and her MSW from University of Pennsylvania School of Social Policy & Practice.
Executive Board Term End
2023